Blog
"And your very flesh shall be a great poem." — Walt Whitman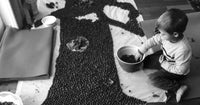 It's a sun-drenched day here in Southern Maine and the air is brisk. The rains came pounding down last week like a steady heartbeat—lifting leaves from branches and blanketing the lawns and fields with gold and burgundy and orange. My eyes are drawn to the golden hue most of all. I've just come from a weekend visit to meet a brand new baby—a beautiful new boy in my tribe. Traveling alone, I had the space to linger in his gaze, taking in his otherworldly smell, reveling in the wonder of new life. His neck was silken, his grip strong. He reminded me about what is important. He took me swiftly back, too. It wasn't long ago that my own boys were just tiny babes like him and yet, that season seems a world away. Looking into his soulful eyes, I felt a stirring.
Back at home my life is full. Jonah is rapidly approaching his 6th year and I observe him sinking his roots more and more deeply into his earthly being. He recently walked briskly toward me from his kindergarten classroom carrying a backpack that frequently gets left behind. The confidence of his stride and the straps of the pack over his shoulders reminded me of a trailblazer heading for the hills. Adrian will be four in February. He is living less in our worldly timetable and his days run together sometimes, but his legs have lengthened, his body is thinning and he is comfortable now staying for a longer day at nursery school. On Thursdays he is home for the whole day and we spend time together as a pair. Sometimes we do shopping or go visiting. Last week we decided to have a "home day." I try to spend time one-on-one with him before taking on any of my own projects or household tasks. We sat down at our dining room table to play cards. Adrian often sits at the "head" of our table on a booster seat and he occupies this position well. His way of expressing himself is nothing less than commanding and he is sweet, too. His eyes grow wide and liquid when he speaks—like saucers filled with chocolate—and he often tips his head to the side in explanation, his hands gesturing as well, twisting his palms upward. His voice is low and strong, his smile wide, his laugh contagious. We begin our game and I settle into a place of observing him as if he is my Drishti point in a yoga balancing pose or meditation. I smile at him when he smiles—which is often—and nod my head in response to his nearly constant monologue. He keeps track of our game judiciously letting me know he is winning and when he sees that I am then winning, he is able to be gracious—a sign of his growth as well.
Adrian and I move on to work together on an "acorn art" project that we dreamed up back when the warm summer breezes caressed our bare, brown arms. I am pleasantly surprised that he is interested again, his enthusiasm having originally waned after gluing the first hundred or so acorns onto the giant outline of an oak tree. I listen on now as he takes orders from me for the number of acorns I need and retrieves a car-carrier truck to move them over to where I am gluing. We've coined a term for the littler acorns. We call them, "chicken littles." We decide that we will need to tell Jonah about this later.  When we first began working on this project, I thought somehow that I needed to apply the acorns in neat rows and with delicacy, but then I saw Jonah take a big handful of acorns and place them wildly on the paper and with lots of glue, I realized the freedom—and the beauty—of his way.
Subscribe to my mailing list!
Leave a comment (all fields required)
Comments will be approved before showing up.