Blog
"Faith is a passionate intuition." — William Wordsworth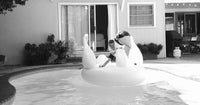 This book is different than what you might find in a mainstream bookstore. The cover is a combination of white and pale-shaded blue—remarkably smooth to the touch—the illustrations fanciful and drawn in a pastel palette.
It has the feel of a children's picture book more than a middle-age reader and was a gift for two boys' birthdays celebrated two months after-the-fact.
From the drawing on the front they could see an adventure would be found within, yet Jonah and Adrian still wondered aloud whether the story would be adventurous enough.
Oh-how-enticing the lure of excitement can be.
Adrian will sometimes exclaim in certain situations—usually in response to the presence of a spread of sweets and some parental limitation—I'm so tempted!
I smile thinking about his words and wide-eyed expression and imagine all of the ways in which the world will call to him as he grows and the temperance he will need to harness at times.
I think about the restraint we all need to exercise so as not to be swept up into the appeal of instant gratification and constant diversion so available in today's hastened reality.
When I check-out of these ways of being too-hurried and too tapped-into the perspectives of others, I notice a new—a renewed—energy rising up in me.
To shed constant noise and popular narrative is a little like being reborn.
I find myself engaged again with the rhythm of my own ready voice filled with the valuable instincts present in the spaciousness of conscious breathing, alive in the drinking-in of my child's long and detailed story, whispering as I peer at clouds inching across the sky—draped in shadow, then in light.
The natural world sharpens into greater focus—branches of trees outlined thickly as if with a stick of charcoal, as if my contact lens prescription has suddenly been increased.
A greater nuance of color is revealed in my sight and my heartbeat steadies with every moment less I spend absorbed in a world of endless chatter.
Time seems to expand and worries around outcome lessen.
It will all get done. Or it won't.
I will be known. Or I won't be.
Stripping away the collective voice, we may arrive at the solitary—yet deeply fruitful—precipice of our own unique being where we may quietly mine our personal truth in living.
It was my kind of drawing—whimsical with an elegant boat made from the body of a swan—a delicate, lavender flower decorating the sail.
Aboard were three children with rosy cheeks and a gnome with a long redish-blond beard wearing a pointy hat standing at the helm where the swans neck rose up and curled forward in the shape of a hook or an umbrella handle.
A mermaid rode portside with green flowing hair and beneath the boat swam three single-eyed sea creatures.
I attempted to read in an animated voice to garner enthusiasm when we began huddled together in one twin bed where the light is better.
It wasn't necessary though—the story was packed with compelling happenings from the start.
We finished a couple of chapters before we packed for our own adventure and I tucked the book into the boys' backpack to read while we were away.
I was surprised by Adrian's early awakening given our long journey and his brief slumber and had to peel my eyes open to greet him.
I had stayed up into the night unpacking, learning my way around our new accommodations and hunting for the coffee I knew would ground me in morning ritual the following day.
We found a wide chair with a giant ottoman to lounge in while I drank from a dreamy mug and then eventually made our way outside—into the back—where the sun cast heat in a way that we hadn't felt upon our skin in Maine for many months.
The book was far from my mind.
There was a wooden shrine along the edge of the flourishing space with a large Buddha from the Indian tradition seated in the earth-touching position—an emblem of determination—and based on the story of the Buddha's enlightenment.
I admired and photographed it from a particular angle to highlight a single strand of flora in the path of the sunlight landing at chest-height in front of it.
It became a touchstone in the coming days to gaze at the Buddha amidst the ruckus of kids in a pool—a flash of serenity among splashing chaos.
A wall of fuchsia bougainvillea almost-completely camouflaged a fence and there was a pool with a giant, inflated swan-boat-raft—seated at the edge—ready to be launched.
It was completely lost on me at first.
The white swan raft with its black markings and yellow beak looked fantastical and fun but I didn't initially make any sort of connection.
It might have been the second night when we pulled out the book to read before bed that I finally looked at the cover and had a revelation.
We had arrived in a place where there was a literal swan boat available for our enjoyment mirroring the cover of our book and the story within.
On that first morning, I allowed Adrian to launch the swan into the pool.
He pushed it off the ledge and then leapt onto it fully-clothed, shortly after falling in.
There was practically incessant riding-on-the-swan-boat, leaping-onto-the-swan-boat and nearly-destroying-the swan-boat's neck by four children for five days.
Clearly the one with the long, curly, blond locks was the mermaid and any of the other three could have been the gnome or the sea creatures.
When we weren't by the pool we were absorbing sun and beauty in other nearby locales.
We had just come from a hike in Topanga Canyon and from scarfing down food from In-N-Out Burger.
We were exiting into the parking lot from the restaurant when a man we had passed by the doorway, called out to me.
Jonah and Adrian were sun-kissed with white and blue hoods pulled up over their heads in protection from the strong rays—slow and sleepy from the activity and the food.
The man began following us.
He was sun-burned, too, and appeared to be either homeless or nearly so.
I heard him say something again and I quickly scanned my inner alarm-system for any signals that I should gather my boys more near.
Instead I received the opposite message and knew distinctly to turn toward him—not away.
He began telling me in his drawn-out voice that he had recently heard a radio program about penguins and that my two boys in their white and blue hoods somehow reminded him of those adorable creatures wobbling along.
I could see his point entirely and his comment had immediate significance given our family's recent association with penguins.
We thanked him for the message—taking in his weathered face and watery eyes—wishing him well.
Enjoy those bambinos, he'd said as he strolled off.
After he'd gone, we all began talking at once.
Penguins! Can you believe it!
This message wasn't lost on any of us.
Life has a way of speaking to us when we have hearts to listen.
Sometimes it can take time and reflection to understand the directions in which we are being guided.
Often the world is offering reassurance that can only be understood in hindsight.
There are vast meanings attributed to the symbolism of the swan drawing from ancient mythology to dream analysis to Shamanism to Native American Totems.
The thread that seems to weave the many interpretations together is the emphasis on intuitive listening—our abilities to live gracefully within this invisible dance with something greater than us—and our receptivity to messages delivered from another realm sometimes by angels who walk right here among us as if in disguise.
This might be the slowest entrance into Spring that I've experienced since moving to Maine nearly nine years ago.
Wool and blankets are staples still.
Tiny buds have begun to appear on branches—though you have to look really closely to notice them.
Strangely, there will be a spike in temperature with a high of 80 degrees forecasted for tomorrow—a welcome relief from the low-draping clouds and the chill.
My hope is to be among the natural world soaking in the warmth and the silence and listening intently for the exquisite call of the swan.
Subscribe to my mailing list!
Leave a comment (all fields required)
Comments will be approved before showing up.