Blog
"I wish that every human life might be pure transparent freedom." — Simone de Beauvoir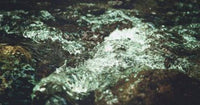 Last week a friend invited Jonah, Adrian and me for an impromptu picnic just after our noon pick-up at school. She said she knew of a spot by a stream just a stone's throw from our campus. It was a lovely location, she said, "as long as you are ok with trespassing." My friend wasn't sure how I felt about trespassing. I happened to have a picnic packed in my car for my boys to go to another location, so we were able to join readily and were delighted for the company. I was fine with the trespassing part of this equation as well. I had seen my friend's car parked alongside the road before and wondered where she and her daughter had been adventuring off to. The entry into the hidden nook was quite steep and we had to make our way around some muddy, sinking spots and down a plunging incline. My friend joked that they hadn't chosen this locale for ease of entry. Once settled we found ourselves situated on the edge of a bubbling stream—laying out shirts to sit on and beginning to pull out food. My friend's spritely daughter quickly shed her shoes and began making her way across the water over to a big pile of rocks. My boys followed suit—only slightly more timidly. Looking up from this picturesque spot we could see a guardrail from the road and the occasional car driving by. Not long after, two more familiar faces popped up from behind the guardrail— another adventuresome mother and daughter pair. Could they join us? Of course! We all luxuriated together in these unexpected and sweet moments-in-time basking on sunny rocks like turtles and taking in our surroundings. I braided one girl's beautiful hair and one mother felt like the Pied Piper with all of the children surrounding her—gobbling up her yummy snacks. The third mother rose again and again as a spotter for the children who needed support crossing the water. At one point, I looked over at Adrian—now solidly four and a welcome member of the bigger kid tribe. He was on the edge of the water near a little pool, enraptured in mud-ball making. His pants and arms were covered in clay and I briefly wondered how this was going to work itself out in the car. I assured myself that this would work itself out. Eventually, Jonah let me know that he was ready to move on. We had a bike ride planned and he was eager for peddling. I dipped Adrian's hands into the brisk water rinsing him clean and we were the first to depart—journeying back out from where we came.  All of the mud has long since been washed away, reapplied and washed away again. I am sitting in a cozy spot and feeling called to continue reaching out to you. I am sitting and I am writing and I am thinking about my friend's words again and again. I am thinking about how I feel about trespassing.
Subscribe to my mailing list!
Leave a comment (all fields required)
Comments will be approved before showing up.