Blog
"In the name of God, stop a moment, cease your work, look around you." — Leo Tolstoy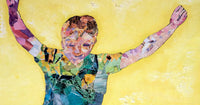 There are various stacks of paper piling up on my counters and spilling off of my filing cabinets—evidence of my growing apathy for the "should's" of this world. My car inspection will wait for the last moment, I'm certain. Thank-you notes go unsent—though my heart is filled with gratitude. A plethora of e-mails in my inbox are like messages in bottles adrift at sea. Instead I drive across a landscape—again luminous with freshly fallen snow—captivated by the shapes of trees and shadows and hills. I am mesmerized by the contrast of the red barn juxtaposed with the snowy field, the rocking yellow sign with the blue-sky backdrop. I wonder how I might bring these scenes to life with the scraps of paper that have become my latest artistic medium. The sun is a torn flower from an old calendar. The arm of a child is the pink and orange sunset, quintessential Maine.
My fingers and my dining room table both have a thin layer of polymer gloss covering them. At night when I rub Jonah's back in his bed he tells me that my fingers feel rough. They feel rough to me too as they travel up the silken skin of his smooth, warm back. I wonder how much longer this precious time with him will last. A few weeks ago he announced that he didn't need for me to rest with him in his bed at night any longer. I was surprised by this edict and grateful that it didn't last. This is the place where I experience the gentle, "I love you's." This is where I listen to his longings for learning, for more knowledge about the world. This is where I remember how little he still is. He asks to feel my rough fingers and evaluates which ones I must use most in my collage work. I think of his request that I create a collage based on him and use a dolphin picture we found together in an old calendar. I think of he and Adrian standing on a bench overlooking one piece making various observations. One woman's arm appears like a flamingo and Jonah feels this may exclude it from being "chosen." They take in a picture of a beach from a torn calendar and Jonah exclaims, "that would make good skin!" It's a family affair, my art.
I'm working on a piece based on a photograph of a friend and her child curled up sleeping together. Her son is feverish and her arm is draped across him with care. I am belaboring the faces. Pieces layered and layered—attempting to get the nose just right, yearning to create a cheekbone as perfect and rounded as my friend's. This work is consuming me. And then later I am laying with Adrian. He too prefers these quiet, end-of-day moments with company. Often he leaves me with only a sliver of his bed so I am lying on my side trying not to fall and he is sprawled out on his back. Our faces are so close that I can feel his soft cheek on mine and notice the sweetness of his breath. His eyes are open but he rests in the space between wakefulness and sleep where a haze begins to fall over the happenings of his day and his lips fall silent. I am studying him like the faces of my collage. I could never capture his incredible beauty. His softness. This time. I must live in this time. Nothing will capture it or preserve it or ever make it come alive again in the way that it is now.
Subscribe to my mailing list!
Leave a comment (all fields required)
Comments will be approved before showing up.