Blog
"Life can only be understood backwards; but it must be lived forwards." — Kierkegaard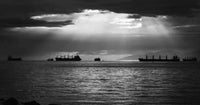 After his attendance at the US Naval Academy and Navy Flight School at Pensacola and Glynco Naval Air Station, my father was in his mid-20s and a Lieutenant in the US Navy completing a tour of duty on the USS Lake Champlain. It was the early 1960s, he recently recounted to me, and his ship—an anti-submarine, attack carrier—was part of a task group that patrolled the North Atlantic during the Cold War and the Cuban Missile Crisis. I had found a quiet place to receive his call on Christmas morning. He was thanking me for a gift I had sent and I was rolling around on an office chair in a back room of our house allowing the high-stimulation of the morning to wash away, sifting around my insides in search of a space where my father's words might fall and land gently within me like snowflakes on a still day. We began talking about the unusually warm season and he began sharing about how in those days aboard a ship—if he were lucky enough—they might dock at Quonset Point in Rhode Island around Christmastime. He told about how they would be dressed in their winter blues "nearly freezing to death," with hats but bare ears and how strange it would be to then set sail, at 18 knots heading toward the Caribbean. He told about how within 48 hours they would then be warm and working, dressed in their khakis and short-sleeves. Next they would head back up to Iceland where they would stay for a long and frigid stretch.
I could hear my boys unleashing their Christmas bounty in the next room. I could feel rising up in me a need to memorize these stories from long ago. He went on to say that at that point in his life, his next rank would be Lieutenant Commander and how his father—a naval officer himself—and other officers he respected had advised him not to leave his tour of duty and head to shore duty in Washington without a wartime specialty. It would be good for his career to stay on at sea. As he spoke, I noticed a spaciousness in me growing and opening like a web in which there was more room for both his and my own perceptions. He was recounting the things that have shaped him. He was recounting the things that have shaped me. I took in the imagery as he then described how he felt in those times like the ground was crumbling beneath him and he was just keeping steps ahead of the collapse with his choices. The Navy was closing specialties and his options were narrowing. He began describing to me how the Navy coded their planes, named their squadrons. ZP3 meant Zeplin Patrol, Third Squadron. He went on, "V" on the side of a plane meant it was a part of "Heavier than Air" squadron. With those mysterious words about the air—that significant sounding name —my heart paused just slightly, wanting to linger a little before its next pulse. Contemplating the air—its weight, its levity—slowed something in me like the slowing of time. I hung dangling there—on the weight of those words, on the weight of it all. I grabbed a sheet of paper, rolled over to the desk and began scribbling notes so that I might remember what made this conversation so exquisite to me. I started taking notes so that I might always remember him. I asked him if "V" stood for Velocity, trying to meet him in the conversation. I wanted to understand. I wanted to understand the depth of our connection despite our vast differences as he spoke on about a world so foreign to me yet constantly brushing up beside me—one that I have been hearing about all of my life.
It's later—the next day. I am heading to a library in a nearby town. There is a quiet room there on an upper floor with lofty ceilings, a working fireplace. It is a place my father would admire. He would take in the oil paintings of ships at sea and point out technical details that would not have caught my eye. I am heading there to study—in preparation for my coming yoga teacher training. The contrast of my chosen specialty in life in relation to my father's—whose career path eventually led to qualifications as a pilot in anti-submarine warfare and naval air transport—is not lost on me. In these conversations and in my deepening study of yoga I recognize the layers of him—of his experiences—that reside in me like the stratums that make up a geological formation.
Now, though, as I am driving across this damp and grey Maine landscape, I am thinking about my grandfather—my dad's father. I am remembering the last time that I saw him. I was a college sophomore and I had left school to meet my father in Maryland where his dad was being cared for in a veteran's home—deep in the grips of Alzheimer's disease. I remember the facade of the building was red brick and I remember walking in and together discovering my grandfather—a once fierce, icy blue-eyed, vibrant man with a quick wit and lofty intelligence—lying on a couch in a community room. He was curled up in an almost fetal position, his body swimming in his pale blue pajamas. He was emaciated and my father could almost pick him up like he was cradling his own new baby. Every bit a naval officer in that moment, my father showed only strength and positivity, a warmth with the nurses—not the sorrow he surely must have known deep inside. He took charge and I followed suit. I held back deep anguish and shock at seeing the deterioration of this once powerful man. Only as I was driving to the library and only now as I write this have I allowed for the memory and the impact of that moment to come forth.
Subscribe to my mailing list!
Leave a comment (all fields required)
Comments will be approved before showing up.