Blog
"Life is not measured by the number of breaths we take, but by the moments that take our breath away." — Unknown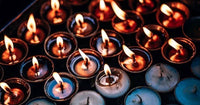 I've got myself stationed at the kitchen island—hoody zipped up, a string of felted, fall decorations at my side waiting to be hung, the fire steeped in embers.
From here I can glimpse the tops of their heads bobbing in the yard, kicking a ball high into the air with a friend. I aim to strike a balance between keeping them alive and keeping their soul's mission intact. It seems they'll jump off of anything no matter the height—no matter the rusty, slicing edges. They hurdle through my room at night showing me they can.
Their faces flushed red from the cold peer in now asking to venture down to the dock. I leave the back door open to the screen—frigid, sea air bursting in forcing the heat out of the room. I can hear them—the tide is in so I want to be able to hear them. Soon they are back up, dragging an enormous pine branch in the shape of a V across the lawn, gifted from the persistent winds.
His head is tilted back under the faucet, his eyes shut—lips cherry red. I'm holding his neck with one hand and using the other to smooth the water through his hair, gently massaging his head, admiring his slight widow's peak. The water is warm and makes his hair seem a darker, chocolaty brown. The repetition is soothing him, it is soothing me.
I rinse his hair long after the soap is gone and think about the ripple effect of learning to be present in his hurts—what it has meant for mine. I think about the overlap between seeing and listening. They have so much to say to me! Sometime I really listen to every word trying to follow along and sometimes I just look closely—like at a painting—their faces inscribed in the lining of me.
I've been noticing the way their voices echo an earlier time—the cadence, the selection of the word evening instead of night, the head tilt in delivery all exactly the same as when they were two and four, even as maturity washes over them. I soak in their newness even as they grow and grow.
There is such simple, exquisite beauty to be witnessed in the human encounter—every gesture a verse, each expression a lifeline to be grasped onto and pulled more near. Life's most precious gifts can be discovered in the seeing and in the wanting to know. Found in the pausing and seeking to hear. Let presence be an antidote to the epidemic of loneliness. Let seeing extinguish the smoking, contagion of distraction.
I close my eyes when I take in your story over coffee—in the gutted warehouse—listening for any wisdom I might draw from the backdrop of me and impart onto you. I would cast a spell to drive out the unjustness if I could.
 I've taped up the card you made for me—imagining what it meant to write the words of a poem in the outline of a bird. The emotion in your eyes—not lost on me.
 At dinner I pretend that we have never met and ask about your dreams. I want to know this part of you, "she wants to dream with you."
You wait for me by my car just to check in and make sure I am ok. I invite you to dinner once more. The boys are waiting in the car.
You confide how hard it has been—no end in sight. I say what I can about a grief I haven't known and despite my stumbling way you keep sharing with me.
When I look into your eyes, something lights up inside of me. We might say nothing—or everything—depending on the day.
It's evening now. They are gathered closely around me near the chair I am sitting in—a fire brightens the space around us like a stage. Jonah is describing a play he saw at school—acting out a scene in which a character in battle is overcome with a sword. He uses a long knife from his ninja costume to demonstrate, falling to the ground dramatically.
I ask him which part he would have liked to play. I assume the upper-grades had performed the show recently for the younger children and I hadn't heard about it.
He clarifies that it was a production he saw two years ago.
I marvel at the way the story has lived in him as he goes on to recite a funny scene in which one of the British soldiers who received a letter from The French claims that he recognizes the word "chicken" written in French. To the delight of the audience, he interjects the word wherever he can despite the insistence from the French speaking soldiers that the word is never mentioned.
He goes on to describe the part he would like to have played. It was another soldier who stood very straight and tall—he shows me, tucking in his chin —guarding a bridge. He was instructed to destroy the bridge when he saw the enemy approaching. With perfect comic timing the soldier—and Jonah—responds, "after we've crossed it, right?" He grins like a professional, nearly winking. It would have been the perfect part for him. I tell him so.
Standing next to my chair, Adrian's got his arm wrapped around mine as we have been taking in Jonah's performance together. For some reason he's got a coin in his hand and he's rhythmically rubbing it against one of my two bracelets. It's almost as if he is strumming a guitar. I turn to him and we're both listening now to the very slight sound that he's been making and I say, "you know this bracelet is actually made from a guitar string."
He looks back at me smiling, strumming away without saying a word.
It really was a bracelet made from the sting of a guitar. I imagine all of the things that had to come together in order for him to find a way to play a little tune right there on my wrist.
Subscribe to my mailing list!
Leave a comment (all fields required)
Comments will be approved before showing up.