Blog
"Nature never did betray the heart that loved her." –William Wordsworth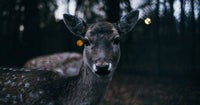 It's another temperate October afternoon—still damp from the night's rain and Halloween is in the air. A flock of crows swoop back and forth high above the tallest pines cawing loudly—announcing the coming storm or some other alarm that only those within their clan can decipher. I've yet to bond with one of these dark and intelligent creatures—so frequently in my midst—although I did once place a shiny, silver carabiner on the top of a hedge in a gesture of friendship.
The hammock has been taken down and packed away in the shed safe now from the winds, the pollen scrubbed from the pair of white Adirondack chairs that sit in welcome throughout the seasons. I've placed a pot of lemon balm on a table between them—a gift from a soul sister, dug from her garden and offered as a tonic with antiseptic properties. Later I will snip some of its leaves and pour steaming water over them for tea.
We have more pumpkins than we need—two are enormous—larger than we've ever picked out before. There are six in total, the pair of smaller ones already tucked in the car ready for carving in the classroom tomorrow.
The bees are telling their story again. They have had to find a substitute for the few remaining flowers that I pruned this morning in the front bed and four or five or six of them have landed on the jagged mouth of a jack-o-lantern, nibbling away at the remaining pulp from yesterday's carving. One lone bee makes its way across the stone walkway, tipping over to its side and falling and then gathering itself upright again to keep moving forward toward some unknown destination.
He must have been brave—or looking for a way back to his den— to come so near, the boys playing loudly in the front yard. I suddenly felt compelled to look behind me. I must have heard something. As I was turning and peering down the pathway on the side of our house I caught a glimpse of a fluffy, grey tail leaping away from us. I took a few steps forward and at once realized we had been just a few long strides from a large grey fox diverted with my turn toward him and now running for the shoreline.
Inside a few days later, the boys and I were gathering our things to leave for an appointment. I was talking with them and facing our front door—large and outlined in windows. My eyes were suddenly drawn beyond them through the window where I came in contact with a pair of large, black eyes peering at me and attached to a wide and round body.
At first I couldn't make sense of what I was seeing. The raccoon was so large and walking up our pathway with such confidence, it seemed he might stroll right up the steps and ring the doorbell. I composed myself and quietly alerted Jonah and Adrian and they turned slowly to face the door. With just that amount of movement our visitor scampered to hide in the line of bushes along our porch, Jonah heading quickly outside to catch one final glimpse before he scurried under the porch.
Dawn's first light was only just beginning to reveal itself, a gentle fog hovering in the distance around a tiny island offering ambiance to the season. The house was completely still and silent except for the gentle movement of my pen across the page. I was perched in the spot I return to before the sun comes up morning after morning opening to connection and preparing myself to meet the vast energies that cross our paths in living.
In an instant I felt a presence to my right where a wall of windows looks out into our yard and the water beyond. I turned slowly—unsure of what I might find. My mind had to acclimate itself to an unusual scene once again—the presence of four majestic deer lingering within a stone's throw of my seat. It was as if they had been looking in at me.
I looked back at them in awe—feeling my heart expand—and zeroing in on the mother's perked tail, white on the underside. Her head turned toward me in a steady gaze, her ears at attention. In my mind I immediately felt compelled to send her a message of safety—of love, even. I thanked her for being there in a way that I hadn't had a chance to do with the other wild creatures that seem to be circling our home coming more and more near.
I began to rise up—I don't know why. There were two little deer along with the adults and as soon as I rose, they all began quickening their pace—moving gracefully— across the landscape away from me. The mother—in the rear of the group—looked back at me for just a moment longer than the rest. I took in the softness of her tender gaze and then watched as she caught up with the rest of the herd, wondering what other visitors I might be welcoming next.
Subscribe to my mailing list!
Leave a comment (all fields required)
Comments will be approved before showing up.