Blog
"Silence is also conversation." — Ramana Maharshi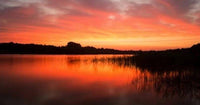 My husband was away—traveling for work—when I began my pre-daybreak awakenings. I meant to rise early so that I might shower and dress, then fill the lunch container and set the table with breakfast items prior to the calls from my two boys announcing their own rise to the day. They've held onto this ritual of our morning greeting stemming from their long-departed need to be lifted from the crib and on most days I still go to them when they call. Opening their door, the warm and sleepy smell of them wafts through the air to greet me—the room still quite dark from the blackening shade. I go to the bed of whoever called out first. Adrian, my littler boy, stretches and moves like a cat when he wakes sometimes crawling his legs up the wall and launching right into a commentary about some obscure fact he's discovered or how stretching is a form of yoga or wondering about whether or not this is a school day. With his shirt hiking up his back as he stretches, I massage his still-warm skin and notice his eyes—puffy from sleep. Jonah is more still and needing of tenderness before he rejoins us in this realm. I come to him and rub his legs, maybe lie down next to him. When he finally opens his eyes fully, he might make a comment about his dreams—how good they were, or how scary. His expression remains supple and pure like a baby in these start of day breaths. I began rising early so that I might meet this morning reverie with a sense of calm.
I've long been drawn to the magic that lingers in the alluring darkness of the pre-dawn hour. There is a silence that is both palpable and vibrating with anticipation—especially in a household normally brimming with boisterous boy energy. On the first day that I rose before daybreak, I allowed for what I thought would be just enough time to prepare myself. When the favor of a few extra minutes came, I found my journal and a cozy place on the couch to write, legs propped up with a fluffy pillow beneath my knees. Words of gratitude fell to the page—long held feelings unearthed—if only briefly. And then the call came and I headed upstairs. On the second day, I allowed for more time. I completed my tasks quickly and by firelight, I soaked in the conspicuous sound of creaking inner doors cracking opening, Spirit gliding in oh-so-discreetly and settling at my side. I began to notice the way in which these stolen moments were informing all of my day. I noticed that I was called to sleep earlier in the evening. The external need for this ritual has since passed and still I rise earlier and earlier—thirsty to drink in the stillness, called emphatically to peel away the crumbling veneers and prepare my skin for a deeper listening—one that I am capable of at dawn's first light.
Last year I began working on a "Wild Woman Collective"—a collection of sculptural collage showcasing women in various states of communion with their inner-spirit, their creative-self, their connection to the Divine as depicted by their interaction with a wolf. I am currently in the final stretch of the third installation—a woman arched into an almost backbend position and levitating with head dropping down toward the wolf who is meeting her with his upward stretching nose and mouth. Her legs are dangling down too in a state of surrender and resting against the sturdy body of this wild beast. Her posture is an act of acquiescence and one of faith in which she gives herself fully to this place of inner wisdom. In the final stage of bringing these wild women and their wolves to life, I must do the intricate work of cutting away and freeing them from the constraints of the paper surrounding them. It is a delicate work trimming away these facets of their beings that although once critical in their creation are now—quite suddenly—no longer serving them. This process requires patience and precision and focus. It requires a commitment to the process of unfolding and it requires stamina. It requires all of the things necessary for a genuine soul in her very own journey toward fruition.
Subscribe to my mailing list!
Leave a comment (all fields required)
Comments will be approved before showing up.