Blog
"Vision is the art of seeing what is invisible to others." —Jonathan Swift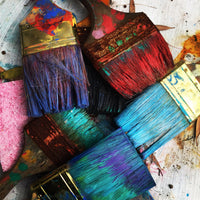 For the stretch of a year, I drifted downstairs each morning—mind still hazy from sleep—pausing at a chest-high wall separating our entryway from the kitchen. There I would read an Inspiring Quote by an Inspiring Woman, removing the message from a tear-away calendar propped on the ledge and stacking it in a pile in the tea drawer. Follow what you are genuinely passionate about and let that guide you to your destination. (Diane Sawyer) All great achievements require time. (Maya Angelou) The kind of beauty I want most is the hard-to-get kind that comes from within. (Ruby Dee) Sometimes the quotes lent themselves as daybreak guides, offering perspective on events yet to pass. In other instances, the timing of the wisdom landed like a message from The Universe—sent directly via a four-by-four-inch scrap of paper. An intimate reminder of the interwoven nature of all things.
With numbered lines on the back, the quotes were later repurposed as the locus for my incessant list making. A stack of them sit on the corner of my desk, a few stapled together with similar themes, others scattered about tucked in journals and books I'm reading. There is no organization to the lists themselves—items vary drastically in importance and urgency. Some entries will never be returned to again. Others needed tending to yesterday. Ireland and purchase carrots at the market. Pick up neighbor's mail and notes on the elegance of snow.
It was here, on one of these recycled sheets where I made a list of the individuals involved in the upcoming art critique. I had been invited as a panelist and the participants were no ordinary artists. I wrote thirteen names and the titles of the works on which I had been asked to comment. Angel and Yellow Helicopter. Jane and Jelly Fish Universe. Mark and The Crab. I wanted to be prepared; I wanted to locate the creator names and works all in one place so I could easily turn to them when we met across thousands of miles through the miracle of a screen—tethered together like an assortment of diverse bells on a wind chime.
Participants would be logging in from group homes, community rooms and their parents' couches across the country, representing a wide array of ages and capacities for walking through the world. The mission at the core of the program was to acknowledge and foster the intrinsic right for all human beings to create and express oneself through an artistic medium—in this case, painting; a belief that although we may each come to the earth with differing abilities and in a variety of forms, inherently we each possess a unique and relevant energy to share.
I began enlarging colorful images of paintings onto my screen in the order in which they had been sent. Like a scene from a children's video game the first creation appeared—a vibrant yellow helicopter surrounded by blocks of primary colors—red, green and blue. Taking out a larger sheet of paper I began making notes, noticing the remarkably unmuddied paint despite the range of colors utilized—not easy to achieve. The vehicle invoked the sense of a story behind its forward movement—where was it headed? This work was created by an artist I was particularly interested in connecting with—someone I had heard about for years and who possessed, like so many of her contemporaries, an aura of celebrity within her own family and community. It is remarkable the capacity of those who travel along a developmentally or neurologically diverse path to open hearts and minds exponentially around them. I have witnessed this first-hand through the life of my own special aunt, who had Down Syndrome and the capacity to light up a room like no other.
Next, I pulled up a painting flooded with texture and a diverse palette of greens. I didn't think to comment on it at the time but within the critique, this work was repeatedly described as organic in feeling and mood. It was rich with the colors and sense of a deep forest. On my notes I wrote about the dimension I experienced within it—the sort of image you could sit with for a long period of time and notice where it might take you and what you might see that you hadn't witnessed at first glance.
The third work was among the most confounding of all the art presented. Completely abstract, it had a color combination that was uplifting to body and spirit. In my notes I wrote that it made me want to sing. The brush strokes felt free and evoked that same sense of abandon in its effect. The singular use of the color lavender created a foreground and dimension that is hard to accomplish. Like many of the paintings, it felt as if the hand of something greater than our known humanity was engaged in the marvelous process of bringing it to life. It was most certainly not the hand of the teacher who had been working with these students from afar and through the use of technology; although the evocation of color and mood might have had something to do with their hearts—hearts filled with love and respect for these exceptional students.
I moved through the many creations over the course of a few days in preparation and was struck at times by the effect I experienced if I stepped away from my computer, across the room and absorbed the paintings from a distance. They had powerful impact—each communicating a wealth of inspiration in their own way. If only I could put into words the profound embodiment of energy I sensed being brought to life by these exquisite works. Thankfully there would be someone present who could.
Having been out of touch in the days leading up to the critique, I sent a message sharing my notes with the organizer, wanting him to know I was all in for the coming gathering he had worked so hard to organize.  
Thank you for taking this seriously,he'd said.
This was the most meaningful work I'd done in far too long—if there was anyone to thank, it was not me. I sent out a last-minute invitation to a couple of friends to join us for the event, including families with children who would be exposed to and have the opportunity to connect with people outside their normal walks of life. Later they would tell me about the lightness and goodness they felt in being there—sensations they hadn't experienced in ages. They felt a part of something important in a time in which the world will direct you toward a million empty things.
In typical technological fashion, the start to the critique invoked all manner of entry to the screens. A group of women sitting at what looked to be a kitchen table popped up. I could see a caretaker in the background moving through the house doing chores. Then a mother and her daughter were looking closely into the screen trying to make out friends and teachers they knew. There was an artist participant who logged-in alone and wanted to be sure she had been heard. All of the teachers and community members joined in joyfully welcoming her.
We hear you. We hear you.
The event began with an introduction of the artist panel. When one of my collages came across the screen—the image of a woman dancing with her hands above her head—an artist from the group home raised her hands above her head in emulation, dancing and giggling.
The artists were introduced with their work and had the opportunity to speak about what they had made. Many demurred but a few offered gratitude for the opportunity to share in their process. I hope I did my best work,said one. When we assured her that she had, and thanked her for sharing with us, she responded, you're definitely welcome.
After each piece of art was shown, the other panelists and I were given an opportunity to say a few words. One of the teachers and I would comment about the technical quality of the art as well as the feelings invoked, offering acknowledgment of talent and words of encouragement. Yet, it was the third member of our panel—a young girl who has Autism and is non-speaking—who, with her eloquent and poignant descriptions of the artwork, elevated the perceptions and the consciousness of everyone involved. She typed seemingly sacred messages through the chat function and then the facilitator read them aloud. Shedding all that was extraneous, she found words that echoed the heart of what she saw.
After I shared my thoughts on one piece about its vibrancy and the interpretation of it as a sun shining on the earth (or something like this), our lovely and gifted friend then typed and sent a message that took our breath away.
How blessed we are that Our Creator has gifted us with life.
She did this again and again. She did this thirteen times!
The loving shapes remind us that we all have a place in this world.
This octopus is helping the world by giving a loving pull toward the future, looking forward with hope.
All the energy of the garden vies for attention—who will the bumble bee choose?
Now this is summer fun! I'm feeling so warm in the orange glow. Happiness, kindness and goodness give these fireworks their energy.
In bloom. I see the garden lovingly making new memories.
The stunning green eye seeks to restore balance to the loving planet.
These powerful, palpable insights reminded me about the constructs and compartmentalization that can occur in the mind. They invited me to read the world through a wider lens and to shake off the fetters that dull the warm glow that is always surrounding us.
Subscribe to my mailing list!
Leave a comment (all fields required)
Comments will be approved before showing up.