Blog
"When we allow story its soul, we can discover our own depths through it." — Thomas Moore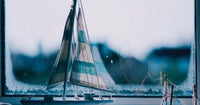 *This is the 2nd installation in a series of posts. If you missed the first, you can find it here.
I was on a high from a stretch of days at beaches near-and-far—channeling Jonah and Adrian's end-of-summer animations away from each other and out into the ethers in places where the sky was vast, the dunes lined with beach roses and the forceful gusts of Maine sea air had a way of whisking away any discord and landing us back in equanimity.
We had gathered smooth and colorful stones—some of them speckled like granite—arranging them in a spiral formation, a coiled serpent in the sand. There were new—more durable—blue and red wave boards picked up at an end-of-season-sale, tried-out and shown to be less-bendy.
I had been lured back into icy waters—a reunion with the cold, a reconciliation with important-parts disowned.
Imagine the splendor of a world in which all-original-qualities-renounced are reclaimed by their rightful owners—the genuine power and delicate force of a planet filled with intact human beings operating at full-potential.
I thought we could maximize our beach-time on Labor Day Weekend by being settled on or near a shoreline—not venturing back-and-forth daily, nightly laundry removed from the equation.
The five-star reviews—the rugged description of the cabins—supported my blind-spot.
I read on the hotel website that depending on the tide, we might need to row a small boat—along with our beach gear—across a tidal river situated between the cabins and the shoreline to access the beach. I imagined a symbiotic arrangement ensuring a row-boat would be available on either side of the river when needed. I pretended the beach gear for a family of four could be made light and compact, that the river would be narrow.
I completely skipped-over the video that, perhaps, with its vivid description of what exactly it would take to reach the waves, might have sent me looking for another hotel completely.
A caravan of traffic weaved slowly south along US-1 as we neared our destination. Checking-in I noted the distance from our room to the start of the river's crossing—a pilgrimage-length journey worthy of a water break for even the most seasoned trekker.
Our two double beds were fit snug in the room and there was a large picture window that looked out into a field overlooking a modest swimming pool and the wide expanse of the river that stretched between us and the midnight-blue Atlantic.
Slight in size and a seeming page-turner, I had packed the second of the three books I had recently purchased. I began reading it the first night—the light on low—and was quickly drawn back into the narrative of an author I had become familiar with some fifteen years ago.
Immersed once again in the subject of a soul's journey though time, I thought about my son Adrian and how just about as soon as he could talk, he expressed to me that he would like to change his name to John. His favorite game for many years—beginning when he was still unsteady on his feet—was called Captain on the Ship where his name was John. He and Jonah would rock each other endlessly on our backyard hammock—sailors at sea on rough waters, calling out the various dangers in the distance.
I couldn't help but think about my great-grandfather, John Anderson, who I only recently have come to know more about—a ship-captain who had survived the storms of Cape Horn and the typhoons of the Indian Ocean only to die young transporting passengers on his personal vessel from Boston to the Long Island Sound.
Held deeply in the grips of the here-and-now, my focus is on Adrian in all of his current uniqueness and magnetic life-force, and yet, it was interesting to think about the parallels—about his seaworthy name with an origin meaning sea or water and to consider the mystery of how we come in and out of our existence—the potential for one soul to occupy many bodies over the span of time.
There may be no more-defining-role to be steeped-in than that between parent and child—not one of us exempt from some part of this dynamic.
From the moment of their births I have believed my children to be capable of teaching me at least as much as I am capable of imparting on them and still even with some vague sense that we might have traveled together before—perhaps in some other arrangement entirely—I have found myself swept up into the momentum of my current role as mother, a position I both love and cherish.
Even so, as I read about the possibility that our roles might in-fact (or in-theory) be interchangeable over lifetimes, I began experiencing a sense of peace and a freedom from the many—sometimes dogged—expectations that this role of mother and the many other roles I have engaged in can require.
Suddenly—that length of river to cross—seemed more manageable.
Without all of the baggage of who we are supposed to be for others—in both relationship and experience—everything becomes less-pressurized.
Without the concept of who we are expected to be, we are—paradoxically—freed to embody our original essence in all of its natural power and capacity.
These thoughts became the backdrop in my mind as we embarked on our weekend away. I found myself a little-less-defined as wife and mother and a little-more just-me, taking it all in.
It turns out the weekend was a practice-run for this looser way of viewing who we can be for each other and would be the answer I gave to my sister a few days later when she asked why I thought all of this was happening.
We are all just playing out various roles for one another across the span-of-time so that we can learn and grow.
I woke early the first morning and read some more until Adrian stirred. We slipped out of the room quietly in search of coffee and breakfast treats. In the lobby of the main building, Adrian found muffins, I tried out the flavored cream in my coffee and we set up a game of Chutes-and-Ladders where Adrian ventured to make the game more challenging—as he often does—by playing two pieces at once. Mid-way through, he accidently bumped my coffee and it spilled on the game. I ran to get napkins and quickly cleaned it up—only a small amount getting absorbed into the checkered, blue and cream couch pattern.
I listened to another guest talk loudly with the hospitality worker at the front desk. He had muscular arms, wore work-out clothing and I imagined he owned the black hummer at a neighboring cabin with a pink decal on the door advertising a personal training business. He was scheduling his next stay for the following summer.
He had children with him—twins—and he was bragging a little to the clerk about how accomplished they were at their sports—the girl a gymnast and the boy a hockey player. I thought about how he possessed hopes and dreams just like I do. I thought about how proud he seemed of what he had created—it was palpable.
I didn't love the raucous sound of his voice in the early morning and I didn't really want to talk to him all that much when he sought to include me in his conversation, but I felt a swell of love for our collective humanity and the wide array of forms in which we might show up.
Adrian beat me repeatedly in the game and we headed back to our room.
We skipped the beach on the first day and I left my vision for the weekend in the hotel room on the messy bed trying to land in the place where the beach was hard-to-get-to and the sun, hidden. We decided to walk a well-known stretch of pathway along the coastline surrounded by steep drop-offs.
We drove around looking for parking among the throngs of Labor Day revelers and a place to eat that wasn't overflowing. We found a spot for both right at the entrance to the pathway.
In the spontaneity of my planning, I had completely forgotten that we had ever been to the beach-town where we were staying. As we were parking, I suddenly began remembering not one—but two—day trips we had made there.
Once we had come in the off-season when Jonah was an infant. We walked down a steep path to the shore careful not to slip on an icy surface, the air frigid. A second time we had driven down in the late summer on a warm evening to meet cousins for ice cream. The memory became vivid as I thought back to ordering a cone for a pre-schooler and toddler under a street light, reciting every flavor twice and negotiating toppings, way past bedtime.
Mid-way through the crowded walk, the sun appeared from behind the clouds and began heating up the air. I took off one of my layers and tied it around my waist. Jonah and Adrian ventured off the path onto a rocky shoreline where Jonah began lifting a large, fallen birch tree trunk and attempting to tip it into the water.
He and Adrian played for a long stretch finally getting the log into the water and then trying to get it back out again—perched from the top of a boulder. It looked both dangerous and engaging to the heart-and-soul of them. I felt apart from the many people walking—the tourists, taking in quintessential Maine—and for a moment, at home again.
We arrived at the river's edge the following morning with as few belongings as we could manage for a day at the beach. The temperature was up and the tide was out and so there was no rowing required on this first passage.
We didn't give all that much thought to how we would get back.
I walked barefoot across the drained riverbed pleasantly surprised by its relatively dry and firm surface given my experience living on a tidal shoreline where the low-tide surface becomes like a mixture of wet, gray clay and quick-sand that can steal away your shoes if you don't move across it quickly.
We were on the opposite shore within less-than ten minutes. We climbed a steep set of stairs over the dunes and found the temperature on the other side distinctly cooler. Even so, we laid out our things close to the water—Jonah and Adrian grabbing their boards, running for the waves.
I eventually got in as well.
Our section of the beach was spacious and uncrowded. We bundled up and peeled away layers over and over as the sun disappeared and reemerged again and again. We sat in chairs low-to-the-ground and read and built sand castles and then trenches to keep the tide away and then finally watched as the waves became overwhelming to our work dragging it out in one final surge of the sea.
We left our things and walked a long way toward the town and the spot where we had entered the cliff-walk. We only carried a little money to buy a very-late lunch. The tide was in now and so the shoreline had shrunk incredibly—all of the people scrunched up into a small section of beach.
We walked around sand sculptures and took in the festive atmosphere—music playing, people living with abandon, free to be themselves. We made our way up to a row of food stands where the pavement radiated the day's heat and warmed the soles of my feet. We found a table in the sun and soaked in the end-of-summer day, the warmth.
I looked down from where we were sitting and recognized the steep pathway where I had stood nearly ten years back with my first baby in my arms on a snowy day.
After eating, we made our way back through the masses of people and as we walked the crowd thinned and we eventually came upon a wide-open stretch of beach where many seagulls peppered the expanse burrowed down in the sand as if they were nesting.
We walked quietly past them trying to understand what they were doing and also attempting to avoid disturbing them.
We lingered a little while longer and then it was time to climb back up the stairs and over the dunes where we saw a woman coming toward us in a rowboat—the river filled-back up.
We approached her as if to trade places but then as she was exiting the boat with her own-two-sons, she began taking the oar with her away from the boat. When we asked her about it, she said the hotel manager had told her to do so in-order to ensure her passage back—something I likely would have known had I watched the video or read the fine print.
We called the front-desk to find out our options and eventually began walking along the river's edge toward a distant bridge that we would need to cross on-foot in order to catch a trolley on the other side so that we could be transported back to the hotel property.
I have found—and it was true in this case—that cultivating a sense of spaciousness, and a bit of humor—can be extremely helpful in this kind of dicey moment when we must ask those around us to try a little harder—to push-on a little further—because of our own mistake or erroneous inner-story-telling, as was the case for me.
I picked up as much of the extra weight as I could—gathering up one of the wave boards—and encouraging us along with an awareness of the story-of-us unfolding. My husband valiantly carried the heaviest bag.
Soon we made it to the bridge.
We watched as an adventuresome child jumped off the side of the wooden railing into the river. On the other side, I helped Jonah and Adrian clean off the sand from their damp feet at the trolley stop so we could put on their sneakers to ride back to our room.
In the morning we decided to forgo crossing the river again and to instead head home with a stop in mind at another state-park beach along the way.
Just as we were leaving, I received a call from my sister. Our mother was very ill again—after being well for five years—and in need of our support and immediate care in another state.
Driving home, I thought more about the varied parts we enact for one-another throughout our lives and in many different scenarios in-order to engender growth.
I imagined gathering together the ways in which we show-up depending on the relationship and situation—wounded and strong and defiant and graceful and passionate and angry and calm.
I could see myself placing all of these qualities into a container, shaking them up, tossing them—high-up into the air—so that they might all get rearranged and then come drifting back down like the colorful, celebration-confetti that is our shared humanity.
** Due to the lengthy nature of this story, I've decided to break it up into a few installments. This is the 2nd. Thank you for staying with me. I do not intend to regularly create such lengthy posts. If you missed the first, you can find it here. I hope you will enjoy my journey through the three books that spoke-to and supported me during a difficult time caring for my mother who is now recovering. Thank you for all of your many good thoughts for her healing.
Subscribe to my mailing list!
Leave a comment (all fields required)
Comments will be approved before showing up.