Blog
"Coincidence is God's way of remaining anonymous." —Albert Einstein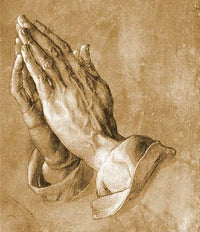 Etched in my mind is the image of my mother on the day she taught me to pray. She is sitting at a table, her back very straight, her hair curly. She brings her hands together in front of her, aligning her long slender fingers—one to the other—her elbows are on the table. Then speaking to us—a group of 10 year old catechism students—she intertwines her fingers and folds her head over against them reverently. She speaks of the, "Our Father" and the "Hail Mary's." She speaks of talking to God. I remember her at Mass in those years, coming back to our pew after Communion and settling into the position she showed us that day. I thought then and I believe now that my Mother said far more to God in those moments than the learned words of our Catholic faith. I don't know what was in her heart but from her posture I knew that she believed that she was being heard. Although we never spoke of the exact nature of my Mother's faith at that time, I believe that in watching her I first awakened to the idea of a higher being who was listening to and even observing me. This was sometimes comforting, sometimes frightening. I remember attending a youth retreat at our church in which a visiting priest interrogated me, saying to me over and over, "what did you do? what did you do?" because I was crying during my "confession." My tears were tears of discomfort, tears of sadness even but this priest assumed I must have done something terribly wrong to be crying in front of him. He must have believed in a punishing God. I remember also a warm and loving priest, Father Balthazar from Hungary—lovingly referred to as "Father B" by the many who adored him. He hosted a day for blessing animals at our church and had a laugh that made you feel warm, like you wanted to smile. He was kind and remembered all of our names, the details of our lives, even in a very large congregation. I believe he knew a loving God.
I remember attending a warm and wonderful Baptist church in my teen years on many occasions with a dear friend. It was a humble place with after-service pot-lucks and the preacher's house rested a stones throw from the chapel. Everyone was welcome. I remember several times looking around the congregation—with a lump in my throat—the many faithful were singing, hands raised up high in the air. I felt enveloped in love in that room. I felt envious and out-of-place and seen all at the same time. My prayer life continued and deepened in the years that followed and I attended both Catholic and protestant churches throughout much of college.
I remember sitting on an airplane when I was twenty-two years old and opening a book titled, "Living with Joy." My older sister had given it to me and I was trying to ignore the fact that the forward of the book claimed that the writing had been "channeled." I was trying to ignore the swirling, purple and pink cover so typical of late 90's New Age books. It was the same year that my sister began telling me that she loved me. As I read the words in this book a tremendous peace began to come over me. I have often thought back to those tranquil moments. I can see myself then—as if on a movie reel—peering out the oval window to my left at mountainous clouds, taking in the warmth of the sun streaming in on me. Although I was ten thousand feet up in the air, I remember finding myself feeling grounded and settling into two very big new ideas. I was settling into the idea of being incredibly valuable just simply in being myself, all that I inherently am—imagined and created by the most magnificent energy in the Universe. In those same moments, I was settling into the knowledge that I was a part of something so much bigger than I could ever begin to be alone. I did not recognize what each of those feeling meant at the time, I just knew that I felt safe and at peace and in control and free and loved and cherished and a part of something and just very, very good for maybe the first time in my life.
I carried that book around with me for months and like an elixir, every time I read the words within I was healed. A fundamental change occurred for me with that book. It was a simple yet profound little book (along with the dozens of other like-minded books and teachers that followed) that took the many pathways that I had been traveling toward God and led me directly to *Him. It was then and over the course of the next nineteen years that I came into my beliefs about the God which I hold dear to me today. I believe that we are spiritual beings having a human experience and that we are here to grow and expand and to heal and become whole. I believe that we have the opportunity to co-create with God through our intentions and our words and even our desires and that we may not always understand why we have created that which we have. I believe there is no such thing as a coincidence. I believe that God hears us and sees us and knows us but in a way that is mysterious and with a wisdom so colossal that it cannot be explained. I believe that communication from God may come through the wisdoms of many different religions and spiritual traditions as well as from the headline of a newspaper or a graffiti scrolled on a highway bridge. I believe that there is a piece of God inside of us, near to our hearts, that is always accessible, but that we are free to ignore for as long as we choose. I believe that God is in the world around us—the acorn with it's little perfect hat, the curl of a wave. I believe God is in our children—the miracle of their creation, the miracle of their coming here into our lives.
My desire is for my boys to start with God where I found him in my twenties. My desire is that they only know a God of love, not of guilt or need for repentance. I hope that they will know a God of comfort and guidance and feel powerful in their ability to co-create their lives and know their purposes by listening to their hearts. I want for them to know that the best expression of their love of God will be a life in which they use their gifts, are true to themselves and loving toward others.
I've been surprised at how readily my four year old Jonah has embraced the idea of God. I've been careful not to be heavy-handed, knowing that within him he has access to a truth that for me I've had to unearth. I began with regular night-time prayers when he was around 2 years old but then backed off when it began to feel forced. Instead we now do spontaneous praying when the moment feels right. From time-to-time I will pray for guidance in front of him and my littler boy Adrian. We frequently pray for our family and share the things we are grateful for surrounding our breakfast and dinner. Together we attend a weekly service at a Unitarian Universalist Church and Jonah has stated that we go there to learn about God. He likes our having a church. He likes the Pie Sunday tradition that we experienced last week. Adrian does not like being left in the nursery and enjoys speaking loudly over the reverend when we bring him into the service with us. When my husband and I were married we chose to honor the religions and traditions of both of our families and so our wedding was officiated by both a rabbi and a priest. During the preparations, our priest was required to have us sign a document declaring that we would raise our children Catholic. A wise and incredibly loving man, he assured us that all this meant to him was that we would raise our children in a house of love. Let me be a loving example to my children. This is my greatest desire in sharing God with each of them.
Jonah has struggled at times to be gentle with his little brother. It has not always been easy for him to share me and to share my husband with another little soul. Witnessing this has allowed for me to see my older sister in a different light (here is an example of God's wisdom that I could never have orchestrated myself). I have urged Jonah to listen to his heart so that he may know how to treat his brother. Developmentally I am not certain that it is correct, but I am listening to my own heart when I guide him this way. Last night, as he and his brother were bathing together, Jonah shrieked out in the most delightful and excited way wanting to share something with me. He said, "I listened to my heart! I listened to my heart!" He used a voice that could only be described as overflowing with pure joy. He went on to explain that he had experienced an urge to be less than gentle with Adrian and that all of a sudden he had listened to his heart and made a different decision. I shrieked out in joy with him not because he had done the "right" thing so much as because I could see the light of God in his eyes and hear it in his voice. I will tread so very lightly with this knowledge and try not to "use" it or manipulate this new knowledge of his in any way. I want for him to settle into the truth of his own heart in his own way and at his own pace.
*I refer to my idea of God as "Him" simply for editorial ease. The God I know is much too all-encompassing to be categorized as either masculine or feminine. He just is.
Subscribe to my mailing list!
Leave a comment (all fields required)
Comments will be approved before showing up.