Blog
"We convince by our presence." — Walt Whitman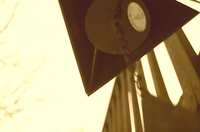 I'm sitting on a lawn chair in my driveway. My palms are sitting upright in my lap and they are empty. I'm not trying to read anything, or type anything or accomplish anything. I am just sitting. I am just sitting and observing my two boys playing at a distance from me—huddled together under a family of Pines. They are as industrious as ants filling a bucket with soil and then bringing it back to a puddle by my side where they spill it out again, creating an impressive amount of mud. I celebrate these days in which fingernails are made to be black, and we play a game called "naked babies" in which my boys strip down when we get inside and run squealing straight to the bath—even before dinner sometimes. On these days, I know that they have lost themselves in their play.
I watch the two of them as they adventure away from me again. I notice their smallness among the towering Pines. They are getting so big, so fast, and yet still they are small. Their friendship has blossomed just as winter has turned to spring. I'm sitting and I'm seeing. It's a sunny day—before the rains began—and I can feel the warmth of the sun on my arms and I can feel a little breeze and then all of a sudden, our buoy wind bell chimes behind me from our front porch. It chimes once bringing me further to attention in this glorious moment. I look out at my boys deep in play and it chimes again. If any part of me had not been there it that moment, all of me is there now. The sound of a chime, so distinct, so holy. I have often thought back to that precious and sacred moment as a means to landing myself here in this moment now.
Spring and summer can be seasons of striving—gardens in need of preparation, branches brought down by winter winds wanting to be cleared, camps to attend and travels to be made. Or if we allow it to be, it can be a time of deep rhythm and meditative work. In early spring, as the snow cleared and the warmer weather began to reveal itself, we discovered that our garden was overrun with a weed that my father diagnosed as "Creeping Charlie." This moniker made it easy for me to lure Jonah and Adrian out into our garden to help me in the very laborious weeding process that is necessary for removing this prodigious interloper. Knees deep in the earth, I would dig my hand shovel down into the ground and rock it back and forth loosening the soil gripping the roots, finally extricating "Charlie." Onlookers, ahem, my husband—born and raised in Brooklyn and not yet accustomed to this type of work—thought the experience must be grueling. I found it to be deeply satisfying and my boys couldn't have been happier with all of the glorious mud I was creating. It reminded me of when I used to help put together a very large mailing for an organization I worked for prior to my life as a mother. My co-workers would tease me because I would say that I enjoyed the mailings, that they were "meditative." The collective groan could be heard across the office.
I've noticed that  when I find myself deep in these kinds of tasks—in raking and weeding or even in the cleaning out of a closet—that my children fall steadily into their own work of playing. It is not the case if I try to use my computer or even a sewing machine. There seems to be something that settles them about my being engaged in tasks in which I must roll up my sleeves. It seems that there is something about my breaking a sweat that frees them to move into their own imaginative worlds of construction site work in our driveway or hamster play in our living room—a recent game in which they use tissues to make little hamster beds and then lay their heads down on them making funny hamster noises.
I am looking for this deep and meditative work to do this summer. I am looking for the tasks that will give form to my children's play like a set of arms wrapped delicately and carefully—yet firmly—around them. I am looking for ways to be that bell that chimes so reverently for them, bringing them into the very place that they are.
Subscribe to my mailing list!
Leave a comment (all fields required)
Comments will be approved before showing up.