Blog
"I want you to be everything that's you, deep at the center of your being." — Confucius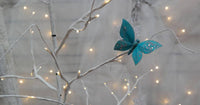 I've just left our bustling household. My husband and I made a quick hand-off with our boys and I am now heading for a meeting at their school. I'm snuggled in my car now and I've got the heat blasting despite the onset of Spring. We are still measuring snow in feet here in Maine. I take in this wonderful sensation—chilled bones heating up with toasty air. I've driven about a mile now and reach forward to turn on the radio but bring my hand back to the steering wheel instead. I decide to allow the silence to wash over me like the waves of heat now coming through the vents. It is so still and quiet on these hilly roads. I can feel myself softening—the boisterous voices of my children falling away, the requests and needs no longer surrounding me. I'm driving along and I notice a little pine tree in front of a home still decorated with colorful holiday lights. I am suddenly taken back to the Christmas tree of my childhood and I feel little tears come to the corners of my eyes. Normally my emotions are secured in a much deeper place, but that tree—it triggers something. The intense feeling passes quickly and I wonder about it a little. I'm coming to a sort of intersection now where cars can merge seemingly out of nowhere and I'm remembering another car ride with my now four year old son, Adrian. It was right about here—at this strange intersection—that he said a few magical words to me, that I have tucked away for safe keeping.
It was one of the first snowy days that we'd had this winter. We had rushed out of the house to pick up my bigger boy Jonah early from school. His slightly irritated eye had rapidly revealed itself as "pink-eye" within the first few hours of his being dropped off. We were driving along and I was noticing the way the snow met the windshield and I was both rushing and trying to be careful of the increasingly covered roads. Adrian was looking at a book in his carseat and he wanted to show me an image he saw in the book. It was too dangerous for me to be turning and looking even quickly so I told him that he would have to describe to me what he saw. I felt rushed to get Jonah and I felt guilty for not noticing that his eye was on the verge of a bigger issue. I asked Adrian to describe to me what he saw in the book and he said, "There is a little girl with a butterfly on her head and she looks grateful." I heard his description and I felt my entire body relax. We continued propelling forward in our car on slippery roads, but in my mind time suddenly slowed and then came to a complete stop as I found myself momentarily living in the spaces between his lovely words, "there is a little girl with a butterfly on her head and she looks grateful." I took in the beauty of the snow kissed tree branches now almost in slow-motion while my heart dangled on Adrian's words. It was the butterfly on the little girl's head—a magical butterfly. It was that word—grateful. It was Adrian's capacity—at age three, then—to notice what grateful looks like. It was the unexpected nature of being stopped in my tracks on that snowy, rushed drive. I repeated Adrian's words back to him and told him how much I liked his description. I thought about stopping and writing his words down. We moved on, though, and soon we were picking up Jonah. He and his teacher met us at the school door. His eye was watering like a faucet and was really, really pink against his bright green jacket and the white snowflakes coming down. We collected him and hurried for the car where we would call the doctor and carry on.
As I have embarked upon bringing my new website to life, I have been holding space within for revelations about what more it is that I would like to share here. I have been listening deeply for what I am called to share here. I believe this will ultimately unfold as I sit down to write and my thoughts begin revealing themselves, however, in this moment I keep coming to this, to the moments like these with those magical words that I received from my son—thinning the veil and slowing time for me. I keep coming to the idea of sharing about the places where our lives are speaking to us and the times in which we may meet those messages with peaked attention, allowing them to offer us a sense of our own purpose, a sense of that which will matter at the end of this chapter of our lives and ultimately in the final pages. My wish is to share about this and about so much more.
I hope that you will stay with me as I move slowly into this work of putting these moments, these ideas, to the "page"—my life remains so full with my family and with my art. And I hope that you will stay with me when my webpage decides to slow time as well—there are still a few kinks to be worked through! And if my words are speaking to you, please consider sharing them with the people in your life who may benefit.
Subscribe to my mailing list!
Leave a comment (all fields required)
Comments will be approved before showing up.