Blog
"If the whole world followed you, would you be pleased with where you took it?" — Neal Donald Walsch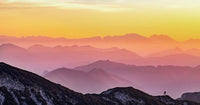 Jonah and Adrian have been coping with the heat these last, sweltering days by spraying each other down—fully clothed—with a garden hose left out in the driveway.
When water hits the blazing pavement they marvel at the steam rising-up from the surface, transfixed by the chemistry—radiating heat mingled with a cool stream.
An aqua and yellow wave-board becomes a shield—blocking water shot forcefully in a front-yard battle between brothers. Shrieks of laughter and withdrawal and the pounding sound of the hose turned to jet hitting the board emanates like the call of wild birds across the still, quiet landscape.
They look for rainbows in the places where the sun's radiance intersects with mist and Adrian calls to me—from outside into the house—elated by what he's seen.
I wish that they might always care so much to share with me about what they've seen.
I try to understand how the mind works and construct a future scene-of-them—two, grown men eager-still to share about the things that stir them—the places they will be drawn to—the people—the ways of being in the world that I have yet to know.
I imagine intersecting with this vision of them on another wave in the swell of time.
I sift around my being for any evidence that I can—even now— remember them in this way.
Running inside, they leave footprints on the wood floors and scoop out ice from the freezer carrying it back outside on a makeshift tray.
Delivering it onto the hot surface, they dip their bare feet into the place where it is quickly beginning to puddle and watch as it begins to disappear.
They argue about who has had a longer turn with the hose and ask me to be their referee.
Sometimes I try to decide what is fair—making a judgement and enforcing it. Other times I encourage them to figure it out themselves. Occasionally I will approach them—bringing them to the ground in a seated circle—and engage in a more nourishing exchange meant to soothe tensions all-together with reminders of who they are to each other.
I am always reminding them of who they are to each other.
When I arrived at the soup kitchen, I signed-in, grabbed an apron and asked the supervisor how I could help.
As she started taking me to the back, storage area, I kind-of-wished I'd waited around the serving-line where I hoped to be placed. Instead I found myself walking into a labyrinth of boxes and rows of shelving units filled with a plethora of donated food needing to be sorted and stacks of paper products, plastic utensils and containers strewn about.
As I began moving boxes from one room to the next where the contents would be put in their right-place, I assumed I would be there for the entire shift.
I thought about how I had come there to help—whatever that looked like.
It was a familiar job for me—like the work I had done when I helped manage a large endurance event in New York City and was responsible for keeping straight all of the medical supplies supporting thousands of participants.
There were two teenage girls who I would be working with in this task—one with a warm, wide-open smile and sparkly eye-shadow, the other more-sullen and with a sharper way of speaking.
People donate a ton of tea to food pantries—and canned pumpkin, and artichoke hearts. I imagine it is what they find in the depths of their pantries when they feel compelled to give.
I came-upon multiple boxes of coffee filters and smiled when I thought about how I had been using a paper towel for a filter in my coffeemaker at home for several days because I kept forgetting to buy more.
After chatting about what-went-where, the girl who seemed less-amicable mentioned that she would be doing this work for two days straight. She did not seem at-all happy about this fact.
I didn't make the connection at first and just as I was asking her why she was there for an extended time, it became clear that she was fulfilling a community service requirement prescribed by the courts.
I'm just a normal teenager—there's nothing wrong with me or anything.
I said something about how one way or another we are all just learning—I was there volunteering because I believe people are inherently worthy beyond their circumstances and I certainly knew there was nothing wrong with her.
I wasn't so sure nothing-was-wrong or that she knew her own value but I was certain of her worth.
I wished I could have offered her a glimpse into some of my less-than-stellar life-experiences to put her at ease—to let her know that she was far from alone in her misstep—whatever it was.
Any one of us could pull out a long-list of all of the ways in which we might have done better at some point in our lives.
I thought of Maya Angelou. Do the best you can until you know better. Then when you know better, do better.
I knew better than to try to share a quote with her in that moment or to convince her of anything so we moved-on to the paper goods area where she put her hands on her forehead—overwhelmed by the mountain of products.
When I suggested we combine like-with-like she seemed to agree that was a good idea and took over from there, ignoring any further suggestions I made.
Her friend smiled at me sweetly from time-to-time.
It seemed like we had been working for a long while when the manager came back and asked if any of us would be willing to come to the dining room and keep track of the number of trays being served that evening.
I was surprised when I entered the steamy kitchen and saw that the food had only just-then been placed in the serving-line—the first wave of people lining up like pilgrims, layered with their belongings.
I was asked to position myself in a place where I could observe—either in the dining room or behind the serving line in the kitchen and to press-down on a little, hand-held lever each time a tray was filled with food.
I chose to stand behind a friend who was gently dipping out mashed potatoes onto trays—tenderly creating a little space for the gravy—and offering light banter to the souls passing through in the way only a person comfortable-in-her-own-skin can.
To my right was another gentleman I know who—despite his own, significant, physical challenges—was offering bread to weary travelers.
In addition to physically taking a tally of each individual who passed through, I made an accounting of them as well.
Not having a responsibility to interact or provide a service, I passed the time engaged in deep noticing of all those who came there for sustenance.
They selected the foods they wanted and I recognized them as valuable—infused with a powerful life-force and birthed into this world, welcomed or not.
I took in each part of them—the energy radiating from their bodies and especially their eyes and their hands, the turn of their mouths—studying the stories written there upon flesh.
I watched them light up and remember and retreat—expressing preferences and showing gratitude—in much the same ways as we all do.
I told myself the stories of their battles and considered the microcosm accumulated in their various paths—emblematic of the universal struggles we all face.
In the quiet of my mind, I let them know they had been counted—not just for having consumed a meal, not for having passed through, but for having arrived on this planet—in all of their unfettered humanity—worthy of being seen.
Subscribe to my mailing list!
Leave a comment (all fields required)
Comments will be approved before showing up.