Blog
"If there is magic on this planet, it is contained in water." — Loren Eiseley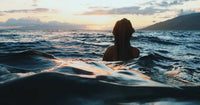 The sky is rumbling—ever-so-slightly and then boorishly—a steady, sonorous rain falling placidly, spread thin through lush, velvety-green, pine branches, landing upon lavender flower petals then making its way to the ground—drunk up by a thirsty earth grown parched from endless days of summer's swelter.
The resting Buddha's chalky-white surface transforms in the garden—gradually revealing itself as the wet, clay sculpture of its inception. I am reminded of a recent attempt to position Jonah and Adrian there next to the Buddha for a photograph marking their first day of school—to include the statue as one of my own, between the two of them.
They insisted on hiding her from the sight of the lens and sitting on her head and teasing me while I begged them to move to either side of her, laughing and finally giving up.
They love nothing more than to turn my attempts at keeping them in some-sort-of-order into bubbling amusement—sometimes my eyes will change from serious to lit-up, along with the hint of a smile, in response to their innocent preference for fun and antics. Jonah—especially—revels in pointing out this shift.
It makes me smile, now, thinking about them. Remembering all of the many ways they challenge me—the way they still need me and yet covet their burgeoning independence like a shiny, precious jewel nestled in a little pouch within their heart-space—pulsing out the colors and rhythms of their lives—Jonah in his graceful, cerulean dance with destiny, Adrian marching forth, staff in hand, grounded and golden.
Seagull feathers from countless days of beach-combing are scattered about the front porch—wide spaces flare outward between the curling, silvery barbs. I admire their gnarly appeal—textured and engrossing in their imperfection and think about the stark contrast of these castaways with the delicate plume that I keep in my car with its smooth surface and intricate design.
I rubbed it across my cheek recently in comparison, experiencing its softness and considering how-on-earth the thick and sturdy quill could ever have been attached to an actual bird.
I used to have a rule for myself that I must submerge my being in any body of water I came across. With the exception of New York Harbor and the East River—when I lived near these two heavily-trafficked and perhaps less-than-cleanly waterways—this held true for nearly a decade.
It didn't matter the season or the temperature or the circumstances, although, I was no member of a Polar Bear Club.
I viewed the presence of water—of rivers and ponds and lakes and especially the ocean—as evidence of the miraculous. I thought of them as sacred spaces infused with a higher energy that could only be manifested by an intelligent, creative consciousness.
I especially felt drawn to saltwater and while a dip-in-a-lake could feel nice there was nothing that could quite compare to the presence of salt left-gritty on the surface of my skin—the stickiness of its residence in my hair, the remnants of its grounding force upon my heart.
It felt like a violation of my soul to pass up the opportunity to make contact with something that felt so holy. I rarely articulated anything like this to anyone around me. I was just a free-spirit—a wild child—with a rose-colored, magic bag and an extra set of clothes wherever I went.
I didn't always swim but I always got in—at least up to my knees or thighs if I could hike a skirt up. Living in the northeast, it meant many experiences diving into frigid liquid and then quickly reemerging—breathless from the cold.
I especially loved the way icy water would make my heart race—like I'd just run a marathon but without all of the effort. It always felt worthwhile, as if I had stroked a wild animal across the forehead.
I cannot remember the exact moment in which I allowed this self-imposed directive to fall away, although I do know it at least in-part had to do with the discomfort of changing diapers, cold and shivering, in a wet bathing suit. To be clear, I did still go into water—especially warm water—but I had become more timid, more motherly about it.
I imagine it must have been a gradual release to have let-go-of something so intrinsic to who I was in those years.
That usually is the way of change—over time, slowly, the manner in which we proceed through life, transforms us.
We become something new—without even knowing it.
In Maine, the beaches vary greatly in their qualities and substance. If you've seen one, you have not seen them all.
There is one beach I've long considered a favorite that appears like a desert in its breadth of sand. I ventured there often when Jonah and Adrian were pre-school age—this was before I discovered the closer path to the shoreline. I would layer-up with a backpack and our lunches and blankets and buckets—and sometimes even Adrian up on my hip—and trudge like a camel slowly across the football-field length of sand shouting out encouragement to Jonah who lagged behind me with his wave board on a string.
We're almost there!
The destination tide pool appeared like a mirage in the distance.
The beauty there is vast and will take your breath away in the late afternoon when the sun dips down and the water mirrors light—like glass—and your child walks silhouetted back to the car.
Another beach—across the bridge where enormous Navy ships are constructed—has large rolling waves, long stretches of soft, white sand lined with sun-bleached driftwood and a frigid lagoon with a current running through it. It seems like you might be able to ride the current like a water-slide but it's an illusion and just beneath the surface are a path of jagged rocks.
There are beaches with large collections of shells and some with extremely shiny, vibrant stones. There are even beaches that feel like lakes with higher water temperatures and only the slightest sound of lapping-water on the shore.
In the last weeks before the start of school it was tempting to begin counting down—to get organized—to shop and re-establish a bedtime routine. I decided to forgo almost all of that. I recognized the call of my spirit to instead prepare for the coming, colder months and the more in-breath existence with one last monumental outbreath and the application of a thick layer of salt and warmth on the many sheaths of me.
I decided that Jonah and Adrian would benefit from the same.
We managed to traverse one beach or another for a long stretch of days in a row—doing the work of packing and driving and loading and unloading the car and piling sandy towels and bathing suits into the washing machine late into the night only to rise and do just the same the following day.
On the first of those days—ears all-filled-up with the long-summer sounds of bantering brothers—I strolled alone down a nearly empty stretch of sand re-discovering my breath and sweeping away the debris that had been building in my body and mind.
As I walked, I noticed the spaces within me—especially within my chest—expanding and my tanned, bare feet sinking more deeply into the soft, warm sand.
I stopped occasionally to notice where I was exactly—in a magnificent place on an incredible planet.
I watched Jonah and Adrian in the distance—marionettes leaping along the water's edge. Strolling back, I bent down every now-and-then to collect a feather—this beach particularly full of them.
Finally reaching Jonah and Adrian, I told them I was coming in.
The water couldn't have been more that 50-something degrees as is common in some parts of Maine. I inched my way in—icy cold waves meeting me at the shins, then the waist. My sons beckoned me to jump in more quickly—balking at my trepidation. I lifted my ribcage up long and away from the waves, stood on my tippy-toes trying to put off the inevitable chill and then suddenly—realizing the futility of my efforts—I dove into the crest of a large wave. The powerful swirl of water curled over me, pulling at my bathing suit and elevating my heart rate fast. Emerging, I could taste salt on my lips as I struggled to stand up—readjusting my suit and looking to make sure my boys were safe.
I was both incredibly aware of the frigid water and in some ways not experiencing it at all.
I was in it but not fully succumbing to its numbing potential. The shivers would come later.
Sometimes at night, I will put my hand on Jonah's chest and ask him how his heart is. It's my way of inquiring whether he feels the need to close-himself-off to this sometimes-harsh world.
I massage my hand quickly back and forth across his chest as if I could vibrate away any pain he might be experiencing in living.
Being tossed about in the waves felt like someone had done that to me—like they had shaken my heart free from all that was gripping it.
Driving home the car was quiet—Jonah engrossed in a book, Adrian gazing out the window.
I didn't know then that I would be drawn into the sea again-and-again in a series of saltwater baptisms at each of the many beach-outings we made in the coming days. I am less inclined at this point in my life to make hard-and-fast rules for myself and so in that moment I was only aware of that single, nourishing communion with the waves and it, alone, was enough.
The fields of goldenrod lining the seagrass marshes on the road home seemed to glow in the path of diminishing light and the occasional tall bursts of ironweed splashed their vibrant-purple hues across the landscape like an end-of-summer firework finale.
Subscribe to my mailing list!
Leave a comment (all fields required)
Comments will be approved before showing up.