Blog
"Only that day dawns to which we are awake." — Thoreau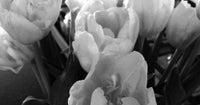 It is late and the house is still. I'm sitting at our dining room table, lights dimmed, listening to the whir of the washer one floor above me sifting sandy garments from golden days away. The heater clicks like an off-tempo metronome and the tulips on the counter across the room open their petals one-by-one in the spaces in between my thoughts—we've just discovered today that they are a pale and pretty yellow.
I've come from my studio where in my latest work I entered the third dimension, bringing alive a nearly life-sized sculpture of a woman draped over the earth in a posture of protection. Her hunched body is covered in American flags, images of the Statue of Liberty and other monuments. It is a slower work than I am accustomed to with periods of gathering hard to find imagery and awaiting things to dry. A few weeks ago I sat on the floor of my studio examining a Vietnam Veterans Memorial Fund calendar that had been donated to me to be used in my work. Within it were letters from the loved ones of soldiers who died in Vietnam. All these years later, the pain is still so raw in those who were left behind. Through tears I read how one man wondered what his life would have been like if his older brother had survived. I thought about what it would be like to live with this question for a lifetime. I thought about what else that brother could have done if he had lived. I can almost see him, tossing his daughter up into the air—taking in her giggles like angels' song. Holding his wife's hand at church or a ballgame. Getting a call—his mother has fallen. Oh, beautiful humanity.
I stood in an airport security line recently coming into the United States from another country. Like a herd of cattle, the people were lined up, stripping their snazzy shoes and straw hats, piling up all of their many, many belongings to be placed on a conveyor belt for screening—my we all carry a lot of baggage along with us on this planet. I stood outside of myself for a moment in that line and I thought about all that we have dreamed up and created to protect ourselves from one another. I thought about the mind-boggling extent of our very existence that is controlled by a fear of each other that dates back millennium. I thought about the weapons and the dogma, the metal detectors and the courts. I thought about the bombs and the border patrols and the sharp-shooter perched at the top of a tower. I thought about what we have all collectively done with this opportunity to live a life here on this miraculous, living planet.
Throughout my travels, I took in the wide variety of human form. This pastime can be especially captivating on a beach where clothing hides far less of our being than under normal circumstances. We come in so many packages. There is size, of course. And color. And then there is essence and aura—the energy with which we navigate our lives and the world around us. This varies greatly as well and none of it is wrong. I could sit all day looking at we humans with our wide smiles and wrinkly legs, with our love of adornment and loud talking. With our limps and with our strides. Let me linger in paradise taking in your unspoken knowns and big bellies and slender arms. Let me immerse myself in your sadness, your gladness your silly songs and oh-please-let-me-be-with-you-and-your-dreams—each one of them alive and pulsing within you like a beating heart on a mountain's climb.
Some humans are deeply steeped in the overarching stories we have been telling ourselves as a global society for generation upon generation. Others are untethered to these tales or as I have come to imagine myself—tethered—to an entirely different worldview and reality that is not bound by the constraints of time and space. It is not bound by fear, at all, but pieced together instead with the most powerful particles that exist in the Universe—particles of what we might call, "love." These same untethered (or tethered) souls are often infused, as well, with an understanding of the illusion of "other." They know about the backdrop that connects us—even with the most broken among us.
It is no easy task, navigating a life with this contrary perspective. It doesn't save you from the pain. Quite the contrary. It is well-worth the cost of shedding the regular narrative, though, to be able to slip back and forth from here to eternity time and again, back into the glorious, salty sea air so readily, the sand now clinging to my skin again, lying near my sweet son as he drifts off to sleep—his silky cheek against mine in the softest of touches, meeting a kindred-spirit in of all places a gas-station to dance, following the trail of breadcrumbs—the tether I hold onto within my tight grasp guiding me from moment to moment to moment as I raise my face up into the sun's glorious rays for a touch of warmth to power on. I wouldn't trade this way for anything. I feel awake. I feel so very, very awake.
Subscribe to my mailing list!
Leave a comment (all fields required)
Comments will be approved before showing up.