Blog
"The best thing to hold onto in life is each other." – Audrey Hepburn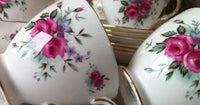 When I was a young girl my grandmother took great pride in teaching me to set a proper table. She knew just how to place things and she was very proud of the vast collection of treasures she'd accumulated over years of military and personal travels in faraway places. There were bowls from Saigon, plates from Paris and linens from Thailand. Her home was crisp and clean, with hospital corners on the bed and the smell of gardenias wafting from her dressing table. It was gritty too, at times, after an afternoon of boating on the Potomac, catching crabs off a dock just a stone's throw away from her home. My grandmother was devoted to gardening and homemaking and her lifelong love of entertaining culminated with a lucrative, late-in-life real estate career. I remember my cousin once comparing me to her. I took it as a high complement. I hope that my home is a fraction as lovely as hers was and that I may share with my children the importance of creating beauty like she did. She had a way of honoring the things that she was blessed with.
I remember when she died reflecting on all of her beautiful things, some of which would come into my care. I saw so clearly and was moved deeply by the fact that not a single exquisite item that she had so adored would be traveling with her. Even in her last years, I remember, as she downsized from her home to an assisted living and then eventually to a nursing home, fewer and fewer of her treasures surrounded her. She valued people and relationships far more than any of those objects, and in her final days I came to see her so much more for her true essence, for all that she was despite her belongings and what might be surrounding her. My grandmother had studied "new thought" through the Science of Mind Magazine series for years and years and in her final room in her nursing home she had kept with her, of all the many, many belongings she had to choose from, her collection of books by Dr. Norman Vincent Peale.
Each day I know that I have a choice as to how I spend time with my children. It is so tempting in this culture to spend that time out gathering more things, toys, clothes, furniture, you name it. When I find myself with plans to do such gathering, I often end up changing my plans. I sit quietly and observe my boys at play. I truly see them. I see the way they delicately examine a toy. I see the movement of their legs as they run wildly. I feel so deeply within me how little the clothes I wear, the things I own, matter to me. What matters to me are the experiences I share with my family. These moments. These connections. These are eternal.
Subscribe to my mailing list!
Leave a comment (all fields required)
Comments will be approved before showing up.